INDUSTRIAL SERVICES
Integrity Marine Engineering Corp. has been serving the industrial market for many years, offering expertise in specialty welding capabilities, product fabrication and industrial repair.
STEEL METAL WORK: REPAIRS & FABRICATION
Our team of expert Certified Welders are specialized to support any industry ensuring safe operations and proper functionality. All services can be performed at our facility or on-site.
Structural, Modify & Frame
Barge Repairs: Vessels & Tug Boats
Certified Welding Capabilities include:

T.I.G. Welding: Aluminum, Bronze, Cuni, Steel, Stainless Steel, Brass, Copper-nickel.
M.I.G. Welding: Aluminum, Steel, Stainless Steel.
Stick Welding: Steel, Stainless Steel, Cast Steel, Aluminum, Bronze.
Plasma Cutting

Collision Damage Repairs
Steel Renewal & New Fabrication Installation
Metal Fabrication
Air Carbon Arc Cutting
Bolting & Torqueing
Valve Repair
Mechanical Repair & Maintenance
Field Machining Services
Cooling Tower Service Repair
Water Treatment Systems
Leak Repairs
ELECTRICAL SERVICES
Integrity Marine's Electrical Services Division can take any system that is outdated, lacks components, or requires further system integration.
Our electrical services include but are not limited to:
Control System Services
Troubleshooting & Fault-Finding Diagnostic

Electric & Electronic Equipment

Engine Motor Rewinding & Repair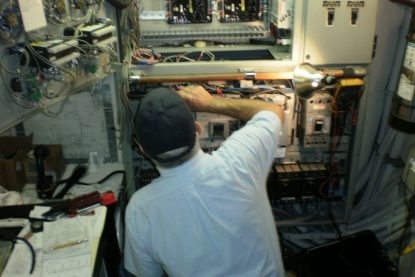 SPARE PARTS SUPPLY
Integrity Marine Engineering Corp. is known for the supply of high quality, cost effective spares to support their client operations.
We supply both new and reconditioned spares for main and auxiliary engines as well as a wide variety of ancillary equipment on the engine and across the engine room.
Range of Spare Parts included:
Diesel Engine Spare Parts
Hydraulic Cylinder Spare Parts
Machinery Spare Parts
Reconditioned Components